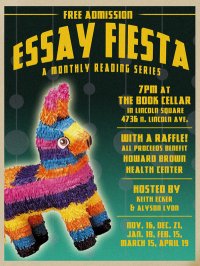 Come hear me read tonight, Chicago! I'll be one of several writers reading in the new
Essay Fiesta
series at The Book Cellar in Lincoln Square.
Essay Fiesta features writers reading humorous personal essays, and is hosted by Keith Ecker and Alyson Lyon. The event itself is free, but proceeds from a raffle afterward go to benefit the Howard Brown Health Center. Besides me, tonight's readers include Cameron Esposito, Mike O'Connell, John Loos, and John Newton. Should be a lot of fun.
The reading starts at 7:00 pm, but since seating is limited I'd suggest arriving before 6:30. Besides its great selection of books (including a small but smart SF section), The Book Cellar offers coffee, wine, beer, cheese, sandwiches, and other goodies. They're also great about special-ordering anything you can't find in the store. The Book Cellar is near the Western stop on the Brown Line, at:
The Book Cellar
4736-38 N. Lincoln Ave.
Chicago, IL 60625
773-293-2665
Hope to see you there!
Full entry
Agent Name
Essay Fiesta
Real Name
Essay Fiesta
Agent Name
Essay Fiesta
Real Name
Essay Fiesta
Ally Name
Essay Fiesta
East Village Youth Program
Essay Fiesta
Every third Monday at 7pm, at The Book Cellar in Lincoln Square, Essay Fiesta brings together a cross-section of Chicago's art and writing communities for a night of first-person, non-fiction essays. The acclaimed salon is hosted by Willy Nast and Karen Shimmin. Learn more at EssayFiesta.com.
Our Work together
Since the first event in 2011, 826CHI has been the charity beneficiary of Essay Fiesta. Each month, Chicago storytellers take the stage to share a piece of original literary fiction. Between stories, 826CHI is welcomed to the stage to share our mission and a piece of student writing with the audience. More than 30 volunteers have represented 826CHI and brought student narratives to this exciting chorus of Chicago voices. In the past seven years, Essay Fiesta has raised more than $7,500 in support of our free programs!
Our Work Together
The partnership between East Village Youth Program and 826CHI is a yearly collaboration to help students achieve their goal of being accepted into their college of choice and for many to be the first in their family to attend college. This fall, 826CHI staff and 12 volunteers worked with 13 high school seniors on their personal statements for college applications. The partnership continues in the Spring when 826CHI and volunteers will return to EVYP to support students as they apply for scholarships.