Eye-Catching Cover Letters
Dokree
/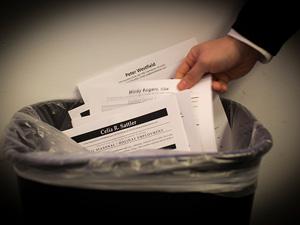 Cover Letters That Catch the Eye
By Heather Boerner
Throw away your form letter. These days, getting your cover letter noticed means getting creative.
"A good cover letter can be the difference between getting a job and not getting a job," said Gretchen Hirsch, writing coach and author of Talking Your Way to the Top. "How you stand out, how you tell your story, is with cover letters."
Consider these tips from hiring managers and writing coaches:
Start Strong
News reporters know most people read only three paragraphs, so they lead with the most important information. You should, too. Start with a relevant professional accomplishment, says Sherry Mirshahi, a resume writer and interview consultant with Interview Roadmap.
"The accomplishment should be aligned with at least one of the qualifications the employer seeks," she says. "This encourages the reader to continue reading and automatically positions you as an expert."
Keep It Employer-Focused
Talk about how the job fits your goals in the interview. Use the cover letter to show how you can help the employer meet her goals, says Alison Farrin, hiring manager and owner of Innovative Pension.
Make sure your cover letter shows that:
You've looked at the company Web site and know what the company does.
You can help cut costs or increase profits.
You have something that makes you special and will make the company special.
Farrin suggests the following example:
The description of your company's range of services indicates that you place a high value on quick response to clients but with particular attention to details. In my position with XYZ Company, I was employee of the month six times based on my fast, accurate service record. I look forward to improving on that record with a company that values my skills in this area.
"If I received a resume that took the time to come up with anything remotely close to this kind of thoughtful information, once I picked myself up off the floor, I would be picking up the phone," Farrin says.
Write a 'Charticle'
Short charts in magazines attract more eyes than long articles. So ditch paragraphs in favor of columns, says Malcolm Munro, a career coach and author of Marketing Yourself for Your Dream Job.
In one column, list the attributes the employer needs. In the next, show how you meet them. For instance, if it asks for four years of experience, list that you have six. If it asks for a self-starter, list your experience starting and leading a team and how it increased profits.
Keep It Short
"If you're a hiring manager and you're going through resumes for eight hours a day, cover letters better be real short," Munro says. "No one wants to read a long one."
Keep it to less than one page with lots of white space and in 12-point type. If it's longer, ask yourself if each sentence meets the qualifications in the first section. If not, cut it.

"What you're telling the hiring manager [in a short cover letter] is, 'I'm the perfect fit, write notes here and call me in,'" he says.
Make your resume shine with help from Monster's resume writing experts!
.
Let's face it: A job search is, typically, anything but fun.
It's almost as if it carries its own stages of grief. At first, there's denial of its demoralizing nature. Then comes the anger over either radio silence or rejection from prospective employers. Of course, there's bargaining -- "I promise to never complain about work again, if I can find a new job!" That's often followed by depression, and the idea that one is simply just unhireable. Then, there's acceptance: "This is awful, but I have to keep trying, anyway."
But we have good news. It is possible to have a little fun with your job search -- and maybe even make yourself a better candidate in the process. The magic, it turns out, could be in your cover letter.
It may be true that 63% of recruiters have deemed cover letters "unimportant," but that doesn't mean yours has to contribute to that statistic. In fact, it might be that cover letters are deemed insignificant because so few of them stand out. Here's an opportunity for you to exercise your creativity at the earliest stage of the recruitment process. Personalization, after all, goes beyond replacing the title and company name in each letter you send to recruiters.
What does that look like in practice, and how can you make your cover letter stand out? We found six examples from job seekers who decided to do things a bit differently.
Note: Some of these contain NSFW language.
6 Cover Letter Examples That Nailed It
1) The Short-and-Sweet Model
In 2009, David Silverman penned an article for Harvard Business Review titled, "The Best Cover Letter I Ever Received." That letter contained three complete sentences, as follows:
Source: Harvard Business Review
One might argue that this particular letter is less than outstanding. It's brief, to say the least, and the author doesn't go into a ton of detail about what makes him or her qualified for the job in question. But that's what Silverman likes about it -- the fact that the applicant only included the pieces of information that would matter the most to the recipient.
"The writer of this letter took the time to think through what would be relevant to me," writes Silverman. "Instead of scattering lots of facts in hopes that one was relevant, the candidate offered up an opinion as to which experiences I should focus on."
When you apply for a job, start by determining two things:
Who might oversee the role -- that's often included in the description, under "reports to." Address your letter to that individual.
Figure out what problems this role is meant to solve for that person. Then, concisely phrase in your cover letter how and why your experience can and will resolve those problems.
The key here is research -- by looking into who you'll be reporting to and learning more about that person's leadership style, you'll be better prepared to tailor your cover letter to focus on how you provide solutions for her. Not sure how to learn more about a leader's personality? Check out any content she shares on social media, or use Growthbot's Personality Profile feature.
2) The Brutally Honest Approach
Then, there are the occasions when your future boss might appreciate honesty -- in its purest form. Livestream CEO Jesse Hertzberg, by his own admission, is one of those people, which might be why he called this example "the best cover letter" (which he received while he was with Squarespace):
Source: Title Needed
As Hertzberg says in the blog post elaborating on this excerpt -- it's not appropriate for every job or company. But if you happen to be sure that the corporate culture of this prospective employer gets a kick out of a complete lack of filter, then there's a chance that the hiring manager might appreciate your candor.
"Remember that I'm reading these all day long," Hertzberg writes. "You need to quickly convince me I should keep reading. You need to stand out."
3) The One That Says "Why," Not Just "How"
We've already covered the importance of addressing how you'll best execute a certain role in your cover letter. But there's another question you might want to answer: Why the heck do you want to work here?
The Muse, a career guidance site, says that it's often best to lead with the why -- especially if it makes a good story. We advise against blathering on and on, but a brief tale that illuminates your desire to work for that particular employer can really make you stand out.
Source: The Muse
Here's another instance of the power of personalization. The author of this cover letter clearly has a passion for this prospective employer -- the Chicago Cubs -- and if she's lying about it, well, that probably would eventually be revealed in an interview. Make sure your story is nonfiction, and relatable according to each job. While we love a good tale of childhood baseball games, an introduction like this one probably wouldn't be fitting in a cover letter for, say, a software company. But a story of how the hours you spent playing with DOS games as a kid led to your passion for coding? Sure, we'd find that fitting.
If you're really passionate about a particular job opening, think about where that deep interest is rooted. Then, tell your hiring manager about it in a few sentences.
4) The Straw (Wo)man
When I was in the throes of my own job search and reached one of the later stages, a friend said to me, "For the next job you apply for, you should just submit a picture of yourself a stick figure that somehow represents you working there."
Et voilà:
I never did end up working for the recipient of this particular piece of art, but it did result in an interview. Again, be careful where you send a cover letter like this one -- if it doesn't match the company's culture, it might be interpreted as you not taking the opportunity seriously. Be sure to pair it with a little bit of explanatory text, too. For example, when I submitted this picture-as-a-cover letter, I also wrote, "Perhaps I took the 'sense of humor' alluded to in your job description a bit too seriously."
5) The Exercise in Overconfidence
I'll admit that I considered leaving out this example. It's rife with profanity, vanity, and arrogance. But maybe, in some settings, that's the right way to do a cover letter.
A few years ago, Huffington Post published this note as an example of how to "get noticed" and "get hired for your dream job":
Source: Huffington Post
Here's the thing -- if the Aviary cited in this letter is the same Aviary I researched upon discovering it, then, well, I'm not sure this tone was the best approach. I read the company's blog and looked at the careers site, and neither one indicates that the culture encourages ... this.
However, Aviary was acquired by Adobe in 2014, and this letter was written in 2011. So while it's possible that the brand was a bit more relaxed at that time, we wouldn't suggest submitting a letter with that tone to the company today. That's not to say it would go unappreciated elsewhere -- Doug Kessler frequently discusses the marketers and brands that value colorful language, for example.
The point is, this example further illustrates the importance of research. Make sure you understand the culture of the company to which you're applying before you send a completely unfiltered cover letter -- if you don't, there's a good chance it'll completely miss the mark.
6) The Interactive Cover Letter
When designer Rachel McBee applied for a job with the Denver Broncos, she didn't just write a personalized cover letter -- she designed an entire digital, interactive microsite:
Source: Rachel McBee
This cover letter -- if you can even call it that -- checks off all of the boxes we've discussed here, in a remarkably unique way. It concisely addresses and organizes what many hiring managers hope to see in any cover letter: how her skills lend themselves to the role, why she wants the job, and how to contact her. She even includes a "traditional" body of text at the bottom, with a form that allows the reader to easily get in touch with her.
Take Cover
We'd like to add a sixth stage to the job search: Experimentation.
In today's competitive landscape, it's so easy to feel defeated, less-than-good-enough, or like giving up your job search. But don't let the process become so monotonous. Have fun discovering the qualitative data we've discussed here -- then, have even more by getting creative with your cover letter composition.
We certainly can't guarantee that every prospective employer will respond positively -- or at all -- to even the most unique, compelling cover letter. But the one that's right for you will. That's why it's important not to copy these examples. That defeats the purpose of personalization.
So get creative. And, by the way -- we're hiring.
What are some of the best cover letters you've seen? Let us know in the comments.